Lillian Lowe, nenek berusia 103 tahun, baru meng-update akun Facebooknya melalui iPad. Ia menggunakan Facebook untuk tetap berhubungan dengan 7 cucu dan 13 cicitnya.
"Saya senang. Semuanya sangat menarik. Ini merupakan cara luar biasa menemukan apa yang kita ingin. Saya menyarankan pada semua nenek untuk tetap terhubung dengan anggota keluarga lain," kata Lowe.
Online OAP: Lillian Lowe, pictured here with her 10-year-old great granddaughter Kaylee Lowe, is thought to be the world's oldest Facebooker at 103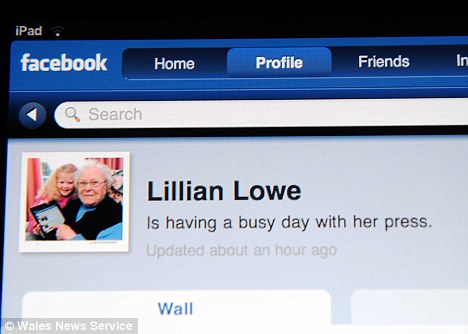 Up to date: Mrs Lowe's profile picture along with her status update on Facebook​
Lowe memiliki 34 teman di Facebook. Seperti dikutip dari
The Sun
, bahkan Lowe sering ngobrol melalui aplikasi chat dengan cicitnya yang bernama Kaylee (10 tahun) dan senang melihat-lihat fotonya.
Awal perkenalan Lowe dan Facebook bermula dari cucunya, Steve (47) yang menunjukkan situs itu dan meminjamkan Lowe iPad-nya. "Dia sangat tertarik pada apa yang dilakukan anak muda sekarang. Awalnya, Lowe agak kaget melihat kelakuan remaja di Facebook, tapi akhirnya dia bisa menanganinya," kata Steve.
Lowe yang tak pernah memiliki ponsel ini merupakan pengguna Facebook tertua di dunia. Sebelumnya, predikat ini dipegang oleh Ivy Bean (104) asal Bradford yang wafat pada Juli 2010.
"Kami pastikan bahwa wanita ini adalah yang tertua, Lowe menunjukkan pada kita bahwa kita tak akan terlalu tua menggunakan Facebook," kata juru bicara Facebook.
Record holder: Ivy Bean, 104, was the oldest Facebook user until she died in July this year
sumber
​