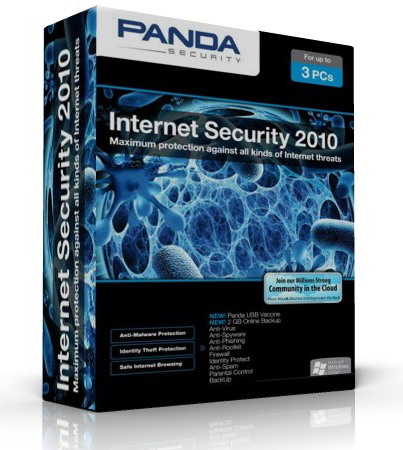 Panda Internet Security 2010 - is a comprehensive security solution that gives you complete protectioninformation and all other types of Internet threats. Anti-spam engine protects your inbox from unwanted messages, and Parental Controls will make use of the Internet safe for your family. With the new Collective Intelligence technology, the program runs much faster than previous versiyami.Sovmestim with Windows 7.
Features Panda Internet Security 2010 Build 15.01.00:
Anti-malware engine:
Automatically detects and eliminates viruses, spyware, trojans, rootkits, bots and other malware before they infect your PC.
* NEW! Panda USB Vaccine protects your USB-device infections.
* IMPROVED! 80% reduced consumption of memory resources.
* IMPROVED! Scans files in real time and on demand.
* IMPROVED! Scans emails before they reach your inbox, regardless of your email client.
* IMPROVED! Scans Internet traffic regardless of the browser version.
* IMPROVED! Scans traffic instant messengers (IM), for example, such as MSN Messenger, Windows Live Messenger, Yahoo Messenger and AQL.
* IMPROVED! Removes all traces left by spyware on your PC.
Advanced Proactive Protection:
Technologies from Panda Security are widely recognized as the most effective against new and unknown threats.
* NEW! New technologies include detection of genetic signatures and remote genetic scan \ \ "from the cloud \ \".
* IMPROVED! Genetic Heuristic engine (Genetic Heuristic Engine) includes the latest algorithms to detect the most dangerous malware.
* IMPROVED! TruPrevent 2.0 analyzes the behavior of programs and blocks potentially dangerous for your PC files. This last line of defense blocks the attack \ \ "zero-day \" and destroys any malicious activity, which bypassed the traditionalprotection systems.
Personal Firewall:
Protects you against Internet-borne worms and hacker attacks.
* IMPROVED! Intellectual automatically configures it necessary to allow the program to pass through the filter, while malware is blocked.
* Enhanced! Protects your PC from hacker attacks via the Internet.
* WiFi-Monitor protects your wireless network from intruders.
* Intrusion prevention blocks known and unknown hacker attacks and vulnerability exploits.
Anti-Rootkit Technology:
IMPROVED! Detects and removes silently-installed rootkits used by malware or hackers to evade traditional antivirus products.
Anti-Phishing Filter:
Recognizes fraudulent email and protects you from scams pristupnikov.
The system of protection of banking Trojans:
Detection of the most dangerous malware to steal personal data, which is used by cyber-criminals to steal your bank data. Specialized heuristics and generic detection techniques ensure maximum security for online transactions.
Web-filtering:
IMPROVED! Allows you to use the Internet safely without the risk of infections, vulnerability exploits, browser hijacking or phishing websites. Analyzing website content, links and Web reputation scores, Panda Security provides protection against all types of Internet threats and scams.
Personal Information Filter:
IMPROVED! Provides protection of personal information, such as credit card numbers, insurance numbers and any other personal information that you specify.
Anti-Spam Filter:
Cleans your inbox from junk mail. With the new anti-spam engine, which detects more than 97% of spam, you're assured of continuous work service and delivery of precisely those messages that you need.
Parental:
Allows your children to safely use the Internet, blocking access to sites with information about violence, xxx or racism, as well as to other sites with objectionable content. The interface allows you to produce regardless of the type of browser used to create a set of filters for different user groups (children, adolescents, staff, etc.) or to adapt the current filter rules for your individual needs.
Backup and restore:
Safeguards your most important files against accidental loss or damage. It prevents loss of important documents due to problems with hard drive, accidental deletion or other accidents. Backup and restore files from your hard disk, CD, DVD, other external media or online are both extremely simple and easy.
Online booking up to 2 GB:
NEW! Includes online booking up to 2 GB
Safeguards your most important files and allows you to access them anytime and anywhere. This last component provides security to the 2 gigabytes of free space for the safe storage of files within one year
System requirements:
Operating system:
- Windows 7 (32 and 64-bit)
- Windows Vista (32 and 64-bit)
- Windows XP 32 and 64-bit
Processor: Pentium 300 MHz or faster
RAM:
- 128 MB without TruPrevent
- 512 MB with TruPrevent (1 GB recommended)
Hard Disk: 275 MB free space
MS Internet Explorer 6.0
Language: English + Russian
License: Shareware (Cracked)
Size: 59 Mb
>> Panda <<
maap jika sebelum'a udah ada yang pernah share