ChaosTeam Pangya FreshUp - USA GB.R7.834.00



Update 31/08/2015
​
Use Pacote VIP e Trainer ao Mesmo tempo[/*]
Adicionado Trainer para o Pangya TH[/*]
Para selecionar o Pangya basta escolher entre USA / TH[/*]
Sistema de Updates adicionado.[/*]
Preview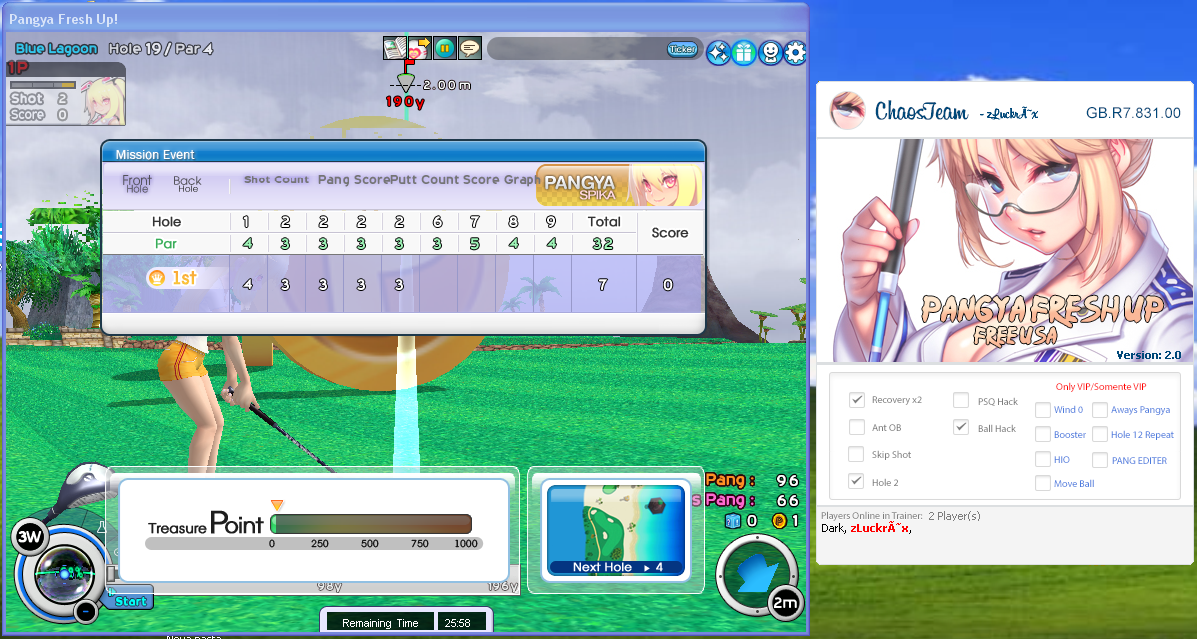 Bom antes de mais nada nossa equipe resolveu a fazer uma Versão "Free" para que os membros possam ultilizar novamente, como podem ver na screen é uma versão bem Básica. Bom proveito.
http://i.imgur.com/fKsUssi.png]
[img]http://i.imgur.com/gIKSbTA.png
Tutorial
1-
Execute o Injetor
2-
Insira seus dados de Acesso e clique em "Check"
3-
Clique em Login e Aguarde.
4-
Clique no Banner e ajude a ChaosTeam
5-
Clique em "Check Version"
6-
Aguarde a atualização finalizar e o jogo irá ser aberto, logue-se e seja feliz.
1-
Run Injector
2-
Enter your access data and click "Check"
3-
Click Login and wait.
4-
Click the Banner and help ChaosTeam
5-
Click on "Check Version"
6.
Wait for the update and finalize the game will be opened, log in and be happy.
Informações
​
Recovery 2x = Te da duas vezes o seu total de pang.
Holle 2/Repeat Holle 2 : Repete o Holle 2.
PSQ = No nivel Rookie F você já pode abrir loja.
Pular Jogada/Skip S hot = Ela pula a anima ção da jogada.
Anti-OB = Quando a bolinha cair no OB não vai contar como OB no seu porcentual.
Important before the Injetor Run / Trainer
Observation
​
Packeado file with Themida, will accuse virus, pause your ant viruses before downloading and running MultClient.



Créditos: ChaosTeam​